International Education Week is an opportunity to celebrate the benefits of international education and exchange worldwide. This joint initiative of the U.S. Department of State and the U.S. Department of Education has been celebrated for 20 years at institutions across the United States. International Week at Rutgers-Camden is a week-long celebration of international education, diversity, inclusion, and cultural awareness. It is intended to recognize international students, education abroad, and to promote Rutgers-Camden programs that prepare students for global citizenship.
International Week 2022 | November 14-18, 2022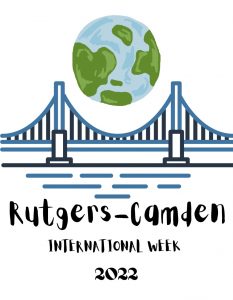 International Week Flags
In celebration of International Week, world flags are raised in the Scarlet Lounge of the Rutgers-Camden Campus Center representing our diverse international student body. We hope this is a small way that our international students might feel welcomed at Rutgers-Camden and reminds all students, faculty, and staff that globalization is an important goal for our university.
Monday, November 14th 

International Student Alumni Career Panel
Virtual Event: InternationalAlumniCareer 11:30am – 1:00pm
Recent international graduates join the OIS and the Career Center to share their experiences, tips, and advice on navigating the U.S. job market as a non immigrant student in the United States.
Hosted by the Office of International Students & Global Programs and the Camden Career Center
Flavors of the World Cooking Demonstration
Campus Center- Gourmet Dining Teaching Kitchen 3:00pm – 5:00pm
Sharpen your culinary skills and join Gourmet Dining for a cooking demonstration in their state of the art Teaching Kitchen. Two 1 hour time slots are available. Space is limited. Advance registration is required at:  https://international.camden.rutgers.edu/events/international-education-week-cooking-demostration/
Sponsored by Gourmet Dining
Tuesday, November 15th

All About Fellowships
Campus Center-South BC 12:45pm – 1:45pm
Attendees will hear from student peers about their experiences applying for and earning awards to fund their global experiences and share why you should do it too!
Hosted by the Office of Scholar Development and Fellowship Advising
Trivia Tuesday with Global Studies
Paul Robeson Library 12:45pm – 1:45pm
Join the Global Studies Department for lunch and a fun global trivia game. Win cool prizes!
Sponsored by Global Studies and The Office of International Students & Global Programs
Wednesday, November 16th

International Quizzo
Armitage Hall, Room 108, 11:45am – 12:30pm
Test your world knowledge! Join us for our annual International Week Quizzo for a chance to win prizes! Food will be provided.
Sponsored by the Campus Center & the Office of International Students and Global Programs
International Student Thanksgiving Dinner
Campus Center Lower-Level South ABC, 3:30pm – 5:00pm
Experience a traditional American Thanksgiving dinner with fellow international students, faculty and staff. Space is limited and pre-registration is required: international.camden.rutgers.edu/thanksgiving
Sponsored by the Office of International Students & Global Programs  
Board Game Night
Paul Robeson Library 6:00pm – 8:00pm
You won't be bored at board game night! Join the Paul Robeson Library as they kick off their monthly game night series. Pizza will be provided.
Sponsored by the Paul Robeson Library
Thursday, November 17th 

Learning Abroad Reunion
Campus Center Lower-Level Executive Meeting Room, 12:45pm – 1:30pm
Former Learning Abroad Program participants get a chance to reunite with their class and faculty to reminisce about their trips abroad. Food will be served. Open to Learning Abroad participants only.
Sponsored Office of International Students and Global Programs
All About Diwali
Business Science Building Room 420, 12:45pm – 1:45pm
Students learn about the largely celebrated holiday, its importance and how it connects to other holidays within various cultures. Sample traditional snacks available.
Sponsored by the School of Business-Camden

Friday, November 18th

World Café
Office of International Students & Global Programs (215 N. 3rd Street) 11:30am – 12:30pm
Join our international students for an afternoon of snacks, games, and discussion on the international student experience at Rutgers-Camden.
Sponsored by the Office of International Students & Global Programs
Boren Awards for International Study
Virtual: RutgersBorenAwards 11:20am – 12:20pm
The Boren Awards are available to undergraduate and graduate students and focus on geographic areas, languages, and fields of study that are critical to U.S. interests and underrepresented in study abroad.  Come to this session to learn more about this award and hear from past Boren Award recipients about applying for these awards, their experiences abroad, and how these opportunities can benefit your long-term plans.
Sponsored by the Office of Scholar and Fellowship Advising